Chris' Guide to Mykonos Beaches
In the Summer of 2017, my partner Denise and I met up with my Mother for a 10 day tour of Athens, Mykonos and Santorini and Mykonos was by far, my favourite part of the trip.
Watch this video below to see footage of each beaches

The Beaches are 'The Thing to Do' in Mykonos
Check any top 10 list on things to see and do in Mykonos and you'll find the island's list of many beautiful beaches.

Mykonos is the island for beaches.
Realising this, we hired a car for entire trip and went about exploring each of the beaches that our hotel recommended to us. These were:
Mykonos Town
Ornos Beach
Panormos Beach
Paradise Beach
Platis Gialos Beach
Psarou Beach

Super Paradise Beach
Elia Beach
Ftelia Beach
Kalafati Beach, and
Kalo Livadi Beach
Here's my thoughts on each of them
Mykonos Town
No trip to Mykonos is complete with a look at the Mykonos Town.
While it does have a small beach, it's more the place to walk the traditional stone streets, dine at the restaurants and check out the shops. A must-do cultural experience!
Ornos Beach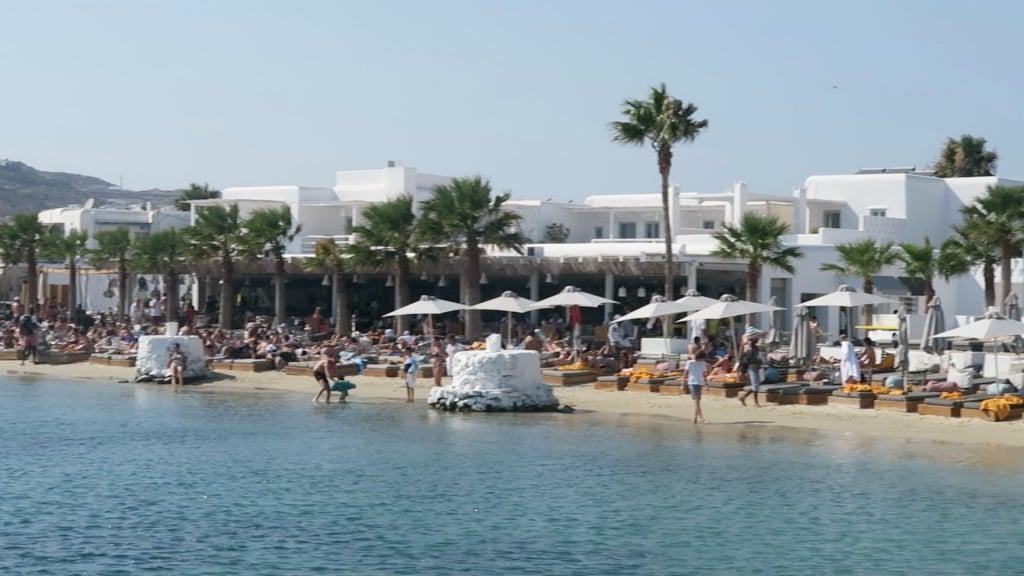 Situated right across from Korfos Beach, Ornus is nothing like its cousin across the strait.
We found the beach to be over-crowded and not exactly family-friendly. We decided to sit away from the beach and grab a coffee but we're interrupted by the loud noises of young party-goers driving recklessly around the bend. Yeah, definitely not the vibe we were going for.
Panormos Beach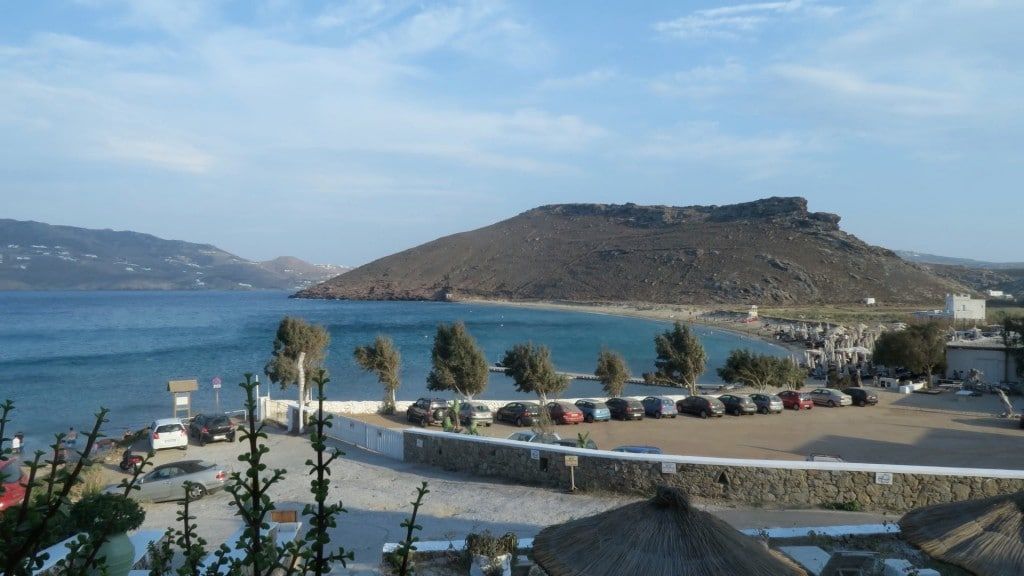 Panormos Beach was just what we were after to end our second day in Mykonos.
It's a small beach with hills on either side and a beach club in the middle. To the left of the beach club is a rocky area to take the kids and further left on the hill is a lovely restaurant called Kalosta with great views of the beach. This is where I took the photo above.
Paradise Beach
Paradise Beach is the island's most famous party beach.
This is where all the big name DJs come to play and all the biggest day/nightclubs including Tropicana, Cavo Paradiso and Tru Paradise are located. In fact, this particular beach seems to have its on eco-system of casual food restaurants, hotels and bars, ensuring that you'll never have to leave the beach - if you don't want to.
I'm myself am a huge EDM fan but seeing as I was on a family holiday, we didn't stick around for long.
Platis Gialos Beach
Platis Gialos is the beach we ended up at while trying to get in to the exclusive and elusive Psarou Beach (coming up next).
It's a small and crowded beach but a lot more chill and family-friendly then say Ornos.
We decided to dine at the first restaurant we saw that offered parking as finding a parking spot in either of these beaches was quite the nightmare.
Psarou Beach
Now we arrive at the exclusive Psarou beach, the small cove which seemed to only be accessible through a small section of expensive hotels.
After an intense argument with one of the hotel staff, we decided to park at the next door, Platis Gialos beach instead and walk around the cliff. Suddenly, I was met with an impressive view of super-yachts parked in front of small beach filled with kabanas.
Within Psarou beach, you'll find the Mykonos Blu Grecotel Exclusive Resort as well as one of the world's most expensive beach restaurants called Nammos.
Super Paradise Beach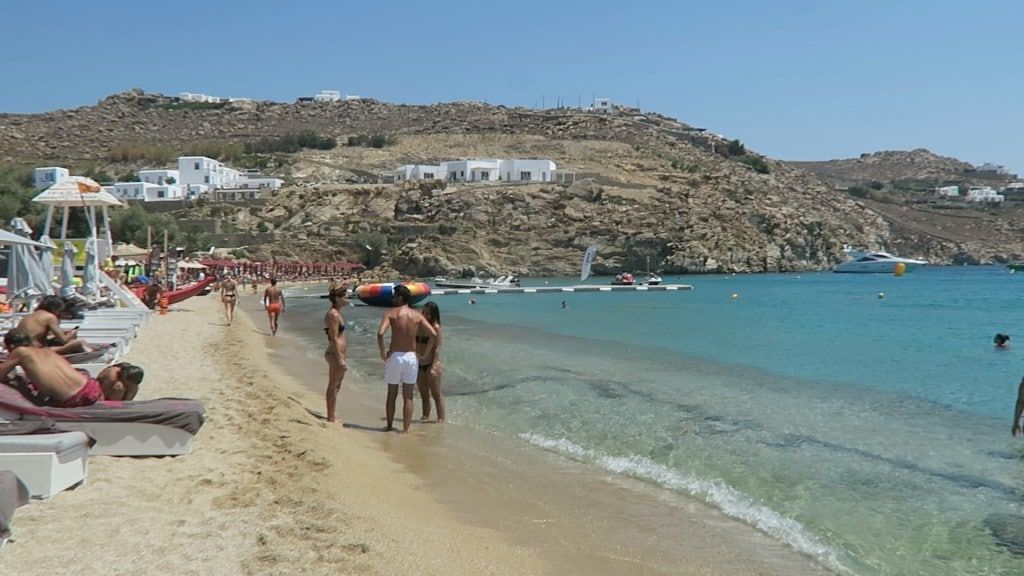 To me, Super Paradise Beach looked like a rip-off of the before-mentioned Paradise Beach.
Just like Paradise Beach, the beach club in Super Paradise (Pinky Beach) has a pile of empty champagne bottles in front of their sign but that is where the similarities seem to end.
On Super Paradise, there's just the one beach club and a concert venue on the hill that looks like it's about to host some washed-up 80's rock band. It took me 15 minutes to convince Mum and Denise to leave!
Elia Beach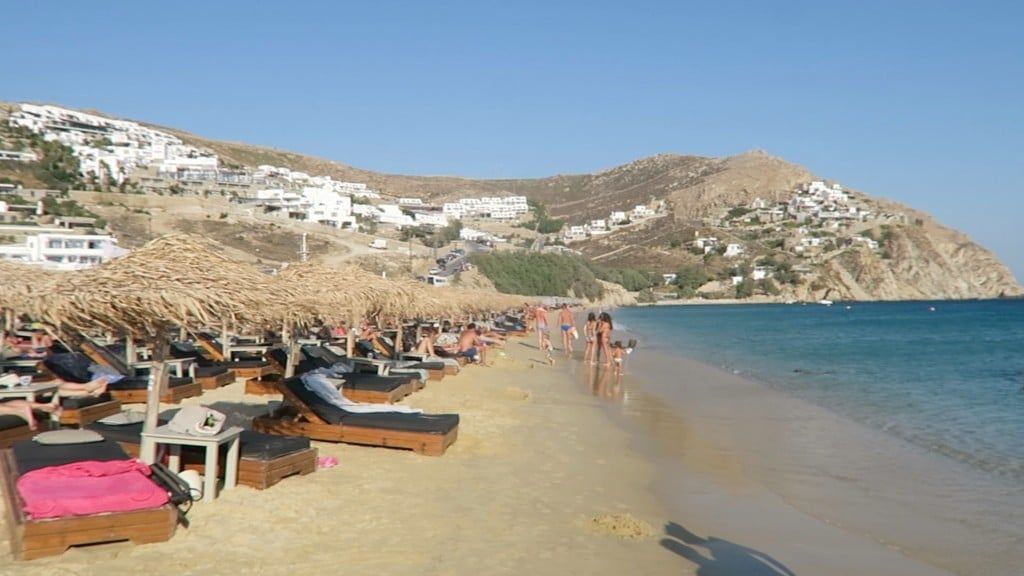 Due to Elia beach being the closest to our hotel, we were able to visit Elia on two separate occasions.
On our first trip to Elia, we found it overly pretentious. There were broke girls trying to look cool drinking cheap soft drinks and Instagram models doing photoshoots on the beach with an iPhone - I mean come on! At least use a proper camera!
The second time however, we noticed a more family-friendly vibe which just goes to show that this beach might just be for everyone.
Ftelia Beach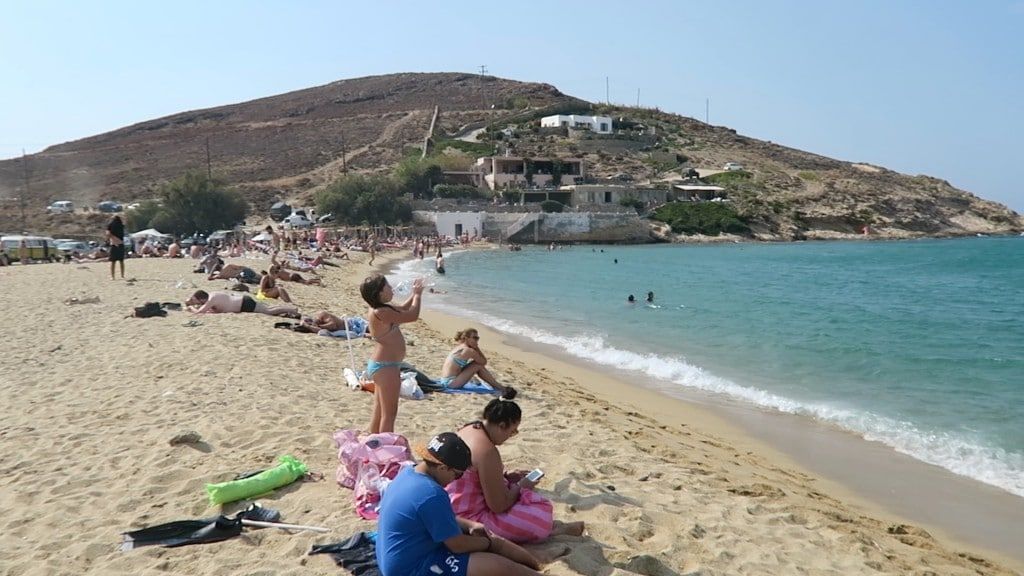 Now for the chillest and most family-friendly beach we came across on tour of Mykonos beaches, Ftelia.
Ftelia offers the only long stretch of uninterrupted beach space out of all the beaches on this list, made commercial only by a small section towards the hill where the restaurant simply known as Ftelia Restaurant sit.
On this beach, the young hipsters and casual family beachgoers co-exist.
Kalafati Beach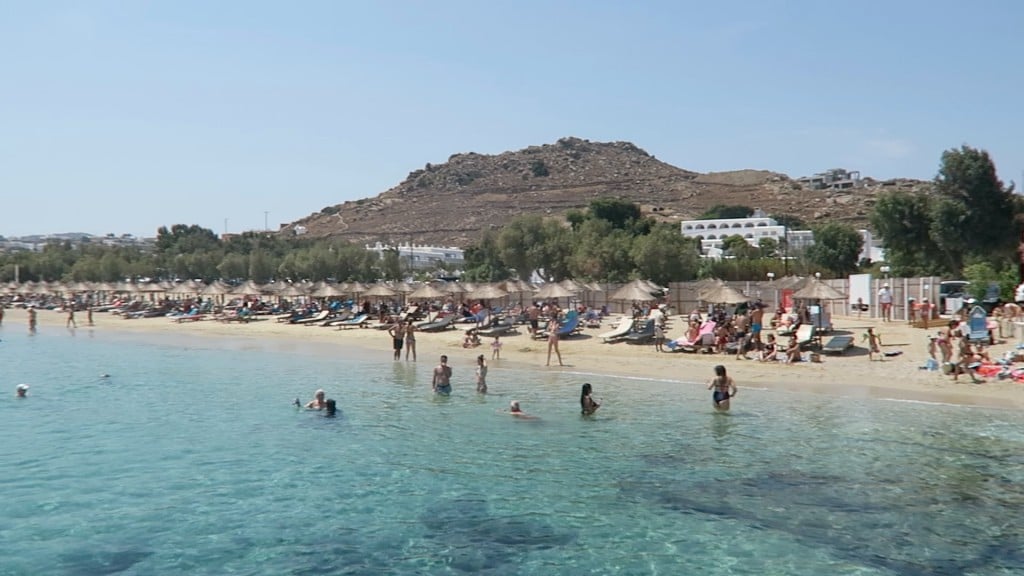 Yet another chilled-out family-friendly beach on the island, Kalafati is the perfect place to grab lunch and look out at the beautiful Mykonos coast.
Kalo Livadi Beach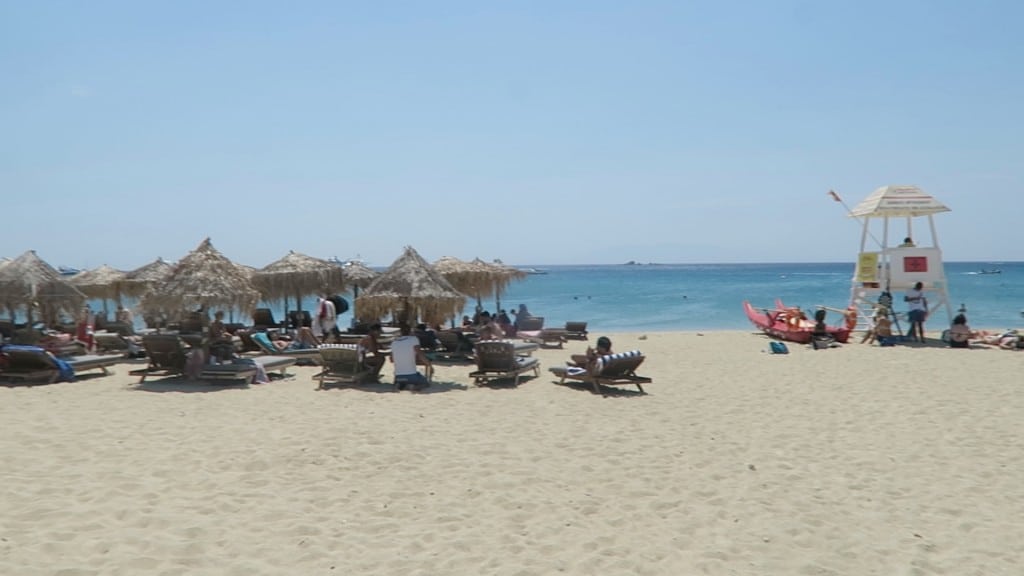 Finally, Kalo Livadi Beach is one of the more classy beaches on the island.
It's dominated by a beach club and restaurant called Nemo where sexy bikini girls welcome you in front of a tall mesh fence plus there's a few expensive shops to blow your money on a new beach outfit.
The girls did a little shopping while I took some footage and then we were off!
TL:DR
If you can't be bothered to read through my mediocre attempt at trying to describe these top beaches in Mykonos, don't worry! Here's my one line summary on each of them:
Mykonos Town - Experience that Greek Island culture in an easy tourist environment
Ornos Beach - Take some Instagram Bangers on the beach and drink at a crowded bar
Panormos Beach - Eat a nice meal with a lovely view of the beach
Paradise Beach - Go clubbing and drinking
Platis Gialos Beach - Get a park to go to Psarou :P
Psarou Beach - Show off your immense wealth (or your newfound debt if your broke - Mykonos might do that to you)
Super Paradise Beach - Don't bother
Ftelia Beach - If you just want to sit on the beach without the restaurants and clubs (maybe bring the kids as well)
Kalafati Beach - Bring your family and have a nice meal
Kalo Livadi Beach - If you wanna get classy but don't anyone to see you
Elia Beach - If you can't decide on any other beach
Anyways, hope that helped.
Until next time,
Chris